43nd Edition 2016 Fish & Game Forecaster! ~ Covers January 2016 through January 2017 ~ GET IT NOW!!!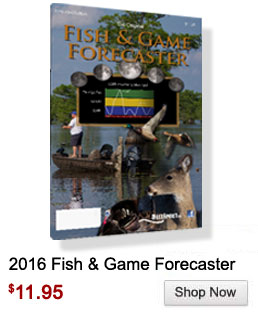 Sportsman's timetable that predicts fish & game movement for every hour of the year. Features of the Forecaster:
43 years of satisfied, successful and educated… anglers, hunters, birders & wildlife photographers
Easy-to-understand graphics showing:
Daily peak activity periods
Individual peak strengths showing "Fair", "Good" & "Excellent"
Dates of moon phases, apogee & perigee
Log book allows for record keeping of over 100 days
Seen on many TV news programs & websites
Uses moon, sun & many other factors
---
Combining the study of past wildlife patterns and the many predictable factors of our environment, the Original Fish and Game Forecaster gives all sportsmen an opportunity to use science to improve their ability to hunt, fish, birdwatch or photograph wildlife in any environment. You can use the accompanying log book to keep track of time, weather conditions and location.
---
35th Edition 2016 Hannon's Moon Clock Now Available! ~ Covers January 2016 through January 2017 ~ GET IT NOW!!!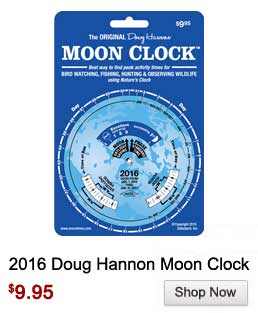 Developed by 'The Bass Professor" Doug Hannon – one of the worlds most knowledgeable wildlife experts.
Features of the Moon Clock:
35th Year
Developed by "The Bass Professor," Doug Hannon – one of the world's most knowledgeable wildlife experts
Pocket size – 4″ x 6″ and easy to carry
Based on moon data only
Shows moon phases and day of highest activity
Use for fishing, hunting, bird watching and wildlife photography
---

Apps for iPhone/iPad/iTouch and Android Phones