***The 2016 Moon Clock and Fish & Game Forecaster are here!!***
43nd Edition 2016 Fish & Game Forecaster! ~ Covers January 2016 through January 2017 ~ GET IT NOW!!!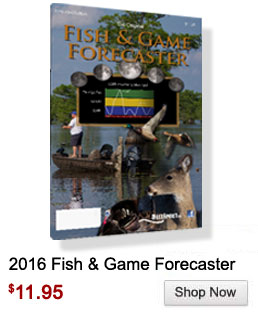 Sportsman's timetable that predicts fish & game movement for every hour of the year. Features of the Forecaster:
43 years of satisfied, successful and educated… anglers, hunters, birders & wildlife photographers
Easy-to-understand graphics showing:
Daily peak activity periods
Individual peak strengths showing "Fair", "Good" & "Excellent"
Dates of moon phases, apogee & perigee
Log book allows for record keeping of over 100 days
Seen on many TV news programs & websites
Uses moon, sun & many other factors
---
Combining the study of past wildlife patterns and the many predictable factors of our environment, the Original Fish and Game Forecaster gives all sportsmen an opportunity to use science to improve their ability to hunt, fish, birdwatch or photograph wildlife in any environment. You can use the accompanying log book to keep track of time, weather conditions and location.
---
35th Edition 2016 Hannon's Moon Clock Now Available! ~ Covers January 2016 through January 2017 ~ GET IT NOW!!!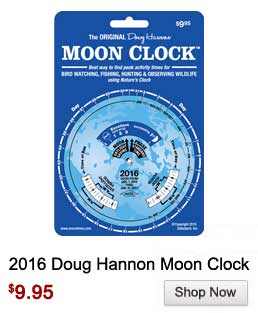 Developed by 'The Bass Professor" Doug Hannon – one of the worlds most knowledgeable wildlife experts.
Features of the Moon Clock:
35th Year
Developed by "The Bass Professor," Doug Hannon – one of the world's most knowledgeable wildlife experts
Pocket size – 4″ x 6″ and easy to carry
Based on moon data only
Shows moon phases and day of highest activity
Use for fishing, hunting, bird watching and wildlife photography
Doug Hannon "The Bass Professor" to be Introduced Posthumously into BFHF During Classic Week
Complications from recent neck surgery believed a factor claiming life of famed fishing tackle inventor, angling  authority, author and longtime TV host.
Bass Fishing Hall of Fame announces Doug Hannon as a 2014 Inductee Hannon is known throughout the bass-fishing world as "The Bass Professor." Across a career of writing, studying, publishing and education, Hannon caught and released more than 800 bass over 10 pounds. He was also an inventor with nearly 20 patents, as well as a diver, underwater photographer and musician. Alongside authorship of hundreds of articles published in newspapers and outdoor magazines, he was also co-host of an internationally syndicated TV show for more than 15 years. Hannon patented the weedless propeller, which revolutionized the trolling-motor industry and allowed anglers to fish vast areas of previously inaccessible weedbeds. He also invented the award winning WaveSpin System for spinning reels, as well as the MicroWave line-control system – a new train of rod guides for spinning rods. Hannon died in March 2013 at the age of  66.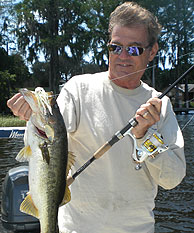 Hannon to Be Inducted Posthumously into BFHF During Classic Week Doug Hannon, the "Bass Professor", who died in March, 2013 at the age of 66, has been selected with 3 other people to be inducted into the Bass Fishing Hall of Fame. All four candidates are being recognized for their profound and lasting impacts upon the world of bass fishing.The Bass Fishing Hall of Fame is a nonprofit organization dedicated to all anglers, manufacturers and members of the media who further the sport of bass fishing. It honors those whose contributions to this sport have elevated it to the professional level, and without whom none of this would have been possible. Hannon, an educator, inventor, television host, award-winning author, photographer and conservationist was also noted for catching-and-releasing more than 800 bass over 10 pounds. He was considered by many as the world's greatest authority on bass fishing and was featured in Outdoor Life as one of the O.L. 25, people "whose lifetime achievement has had the greatest positive influence on hunting and fishing".His many contributions to the world fishing include the weed-less trolling motor prop and Wave Spin reels however the most recent development is the new "MicroWave Line Control System" by American Tackle. Never before have rod components been so widely recognized worldwide for improving rod and angler performance.The MicroWave Line Control System was awarded "Innovation of the Year" at EFTTEX 2013 and "Best Fishing Accessory" at ICAST 2013.The American Tackle Company was truly honored for the opportunity to work with Doug Hannon on this project and applauds his nomination for the Bass Fishing Hall of Fame. And like so many others appreciates his contributions to the world of fishing.Doug's posthumous induction will take place in Birmingham AL at the Bass fishing Hall of Fame induction dinner held the night before the 2014 Bassmaster Classic.