Order 2018 Fish & Game Forecaster and Moon Clock NOW!!  
45th Edition 2018 Fish & Game Forecaster! ~ Covers January 2018 through January 2019 ~ GET IT NOW!!!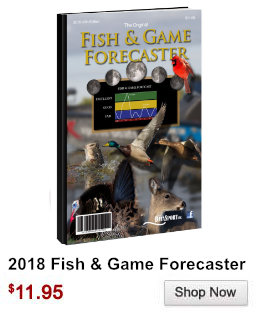 Sportsman's timetable that predicts fish & game movement for every hour of the year. Features of the Forecaster:
44 years of satisfied, successful and educated… anglers, hunters, birders & wildlife photographers
Easy-to-understand graphics showing:
Daily peak activity periods 
Individual peak strengths showing "Fair", "Good" & "Excellent" (see "What's the Difference" below)
Dates of moon phases, apogee & perigee
Log book allows for record keeping of over 100 days
Seen on many TV news programs & websites
Uses moon, sun & many other factors
---
Combining the study of past wildlife patterns and the many predictable factors of our environment, the Original Fish and Game Forecaster gives all sportsmen an opportunity to use science to improve their ability to hunt, fish, birdwatch or photograph wildlife in any environment. You can use the accompanying log book to keep track of time, weather conditions and location.
---
36th Edition 2018 Hannon's Moon Clock Now Available! ~ Good from January 2018 through January 2019 ~ GET IT NOW!!!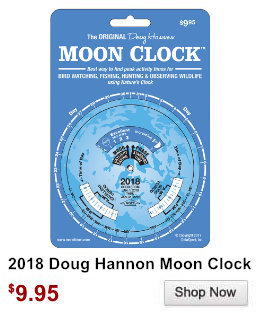 Developed by 'The Bass Professor" Doug Hannon – one of the worlds most knowledgeable wildlife experts.
Features of the Moon Clock:
36th Year
Developed by "The Bass Professor," Doug Hannon – one of the world's most knowledgeable wildlife experts
Pocket size – 4″ x 6″ and easy to carry
Based on moon data only
Shows moon phases and day of highest activity
Use for fishing, hunting, bird watching and wildlife photography
---
---
What's the difference????
Fish & Game Forecaster or Moon Clock?? And how do you decide
Actually, the best answer is "Don't decide…get both" because that's what most folks do. But, there is a difference and here's an explanation:
The Moon Clock
was born 35 years ago, the brain child of Doug Hannon who was one of America's most trusted wildlife experts. Doug had a special interest in fish, most notably largemouth bass. He not only studied their habits but he filmed and videoed hours of their behavior and talked about it on "Sportsman's Challenge." Much of the video was featured on the between-program information on ESPN and ESPN2 starting in the mid 1980's. Doug was a real naturalist and he studied the effects of the moon on all kinds of large and small animals wild and tame, all species of fresh and salt water fish, and birds. He realized that the moon had a similar effect on all of them. You can read a rather complex article that Doug wrote by clicking
here
.
The Moon Clock, as you might expect judging by the name, is concerned with only the moon. It is predicated on the four daily events that happen when the moon rises and sets and is directly overhead or under foot (on the direct opposite side of the earth). Basically, when the moon is rising or setting the activity is "Good." When it is overhead or under foot, the activity is "Excellent." Each of the times advance daily by approximately 47 minutes. It is important to note that the "activity" predicted is movement and the movement is focused on feeding. The Moon Clock and resulting Moon Times are formulated in a completely different manner than any other tables even though, like other tables, there are the resulting four times daily of greatest activity. An important benefit of the Moon Clock is its size – 4" X 6". Pocket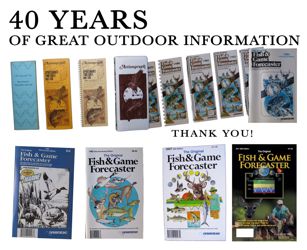 size!
The Fish & Game Forecast
was "invented" 44 years ago by friends in Minneapolis who were among the early computer wizards and, more importantly — fishing nuts. You can read the story of how it happened by clicking on "
Early Days – the Beginning of DataSport
" on the right hand side of this page. They, too, believed in the four basic daily activity periods but felt that there were other factors that influenced the organisms that they were studying – animals, fish and birds. The studies they performed and external information they developed or measured proved to them that those factors should be incorporated into their algorithms. Many of those factors were based on data that anyone who has fished or hunted would recognize, most notably the weighting of activity toward dawn and dusk. That information, along with actual results from fishing tournaments and other data, was added to the programming that they finally wrote. The resulting graphics proved to be the major difference between the Moon Clock and the Fish & Game Forecast. As you can see, each day's graph shows four separate peaks but each peak is measurably different in strength based on the "external data" that is part of the algorithm. So….we tend to say some "Good" periods are better than others and some "Excellent" periods are better than others. That is why each day has "Fair," "Good" and "Excellent" levels. You will note that, although not all days have times that reach the "Excellent" level, there are no days or times that are rated "Poor" because there is never a poor time to go fishing or hunting! Additional benefits of The Fish & Game Forecaster are the inclusion of monthly moon phases, apogee and perigee dates, sun and moon rise and set times for 35° and 44° latitude and, to some the most important…many pages of log book to keep track of your hunting and fishing outings.